Compiled by Jonathan Auld
Born in Adelaide South Australia June 2nd, 1944 Robert was the only son of Mary and Keltie Tweedie and was educated at Saint Peters College. Aged 20 he went to England for nearly 3 years to "expand his ideas" but I suggest he spent most of his time trackside every weekend watching English motor racing no doubt a result of his fathers involvement in veteran and vintage motor cars and love of the sport although he never raced whilst he was there, he was already smitten with the bug at an early age.

Father Tweedie was close friends with "the great" Peter Manton who at the latter part of his race career raced Australia's most successful Morris Cooper S and in earlier days used to travel to Adelaide from Melbourne where he lived to race at Mallala and Collingrove Hillclimb and of course young Robert was his greatest fan especially when Manton used to stay at the Tweedie family home and Rob travelled out to the tracks with him as his "young pit crew!"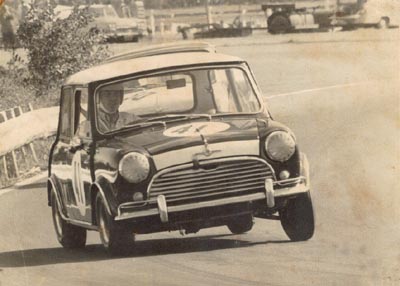 Young "Bob" at Warwick Farm - day one 1968
DAY ONE .... WARWICK FARM RACE TRACK June 1968 having returned to Sydney from England, Rob (known by some then as Bob) was very influenced by Peter Manton who was still racing Mini's very successfully and had met up with Don Holland and Mal Brewster both Mini Cooper S experts and they built up a reasonably quick Cooper S based on an Australian hydrolastic car for Rob. His debut resulted in a second outright behind Brewster (oops) and also was followed closely by the famous Bob Morris also having his first race in a very much modified Toyota Corolla ...
Next meeting was at Oran Park and Rob won so both he and Bob Morris were moved out of Division 2 to the "A" grade Division 1 as result of their instant successes which included all the touring car greats such as Pete Geoghegan, Moffat, Norm Beechey, Foley, Bob Jane and of course Peter Manton et al ... they were now eligible to run in the Australian Touring Car Championship rounds which Rob did mainly in NSW due to budget constraints until 1972 when he hung up his helmet to pursue a business career ... but during these hallowed days Rob had acquitted himself well in this company and was often in the top 6 or better which included an almost 4th outright at Bathurst in1969 until a driveshaft let go on the top of the mountain 2 laps from home. Rob's decision to retire in 1972 as Mini's were being outclassed and he decided it was time to knuckle down and earn some decent money without the distractions of motor racing.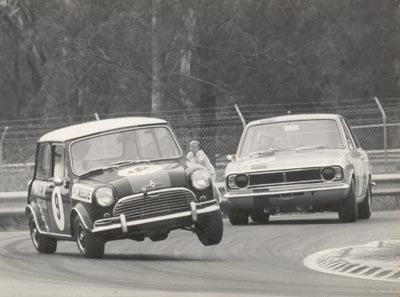 Two wheels at Warwick Farm 1969 - Jim McKeown close behind
1981 .... THE RETURN OF THE JACKAL. Now armed with a few more dollars, Rob bought Rocky Canto's nice (but heavy) little Appendix J Cooper S for the reborn historic tourer class based predominantly on mid 1960's specifications which of course was no stranger to our hero! He raced it against the Ford Mustangs, Valiant's, EH Holdens etc of the time also running under these rules with a reasonable amount of success until 1984 when it was badly damaged at Oran Park so Rob elected to build the mechanicals into a much lighter body shell weighing 602 kg minus Rob and fuel.
This little blue car went onto win many races up and down the Australian East Coast including circuits such as Lakeside, Winton, Amaroo Park, Oran Park and Silverdale Hillclimb and was only occasionally beaten by Mustangs and another very quick Cooper S piloted by a Wollongong based Kiwi panel beater Bruce Allen whose car was even lighter and was always subject to suspicious circumstances ... Rob had lap records everywhere but was getting tired of Mini's by 1987 and met up with old Adelaide mates John Bassett and Pete Smeets in Adelaide and all three contrived to build an Appendix J lightweight Ford Falcon Rallye Sprint from a bare left hand drive USA bodyshell that had found it's way to Adelaide some time beforehand.
Now this interesting and different car was approved to run combination of aluminium or fibreglass panels in conjunction with the steel panels and also had the luxury of a Super T10 close ratio gearbox as opposed to the Top Loader the Mustangs were obliged to use otherwise it used entirely Mustang V8 running gear ...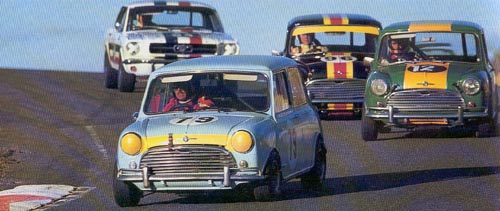 Amaroo Park - 1985 - Rob in the blue car
1988 - THE FALCON RALLYE SPRINT DAYS. Now armed with this 450 horsepower, 1200 kg "homologation special", Rob's successes continued after a year of settling in to rear wheel drive and sorting the car out. Rob won at Bathurst 6 times in support races, won the 1993 Australian Grand Prix support race at Adelaide against no less than 13 other V8's plus a field of Lotus Cortina's, Mini's and so on ... the best in Australia and continued to win and set lap records also at Lakeside, Phillip Island, Amaroo Park, Oran Park, Eastern Creek .... a few of which still stand to this day.
At the same time in the mid 1990's Rob also raced a red 1964 Appendix J Ford Mustang built out of spares left over from the Sprint ... this car generally was raced at "lesser" meetings and also recorded quite a few wins for Rob and was often in the midst of heavy battles with Bob Pearson's Lotus Cortina, Phil Ward in another Mustang and Bruce Stewart in another of Pearsons Lotus Cortina's ... sadly the panel beaters were often kept busy. The car was eventually sold minus engine and finally after a couple of owners ended up with Chris (Feech) Ralph in Melbourne ... an old Adelaide school time chum and still great mate.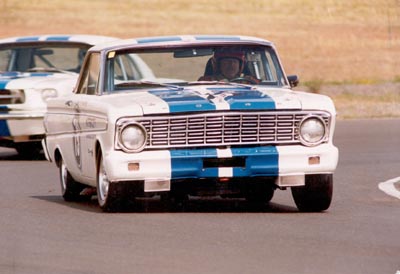 Falcon being chased by Tilley's Mustang
Robert then bought Glenn Seton's Group A 580hp 1988-92 spec Turbo RS500 Ford Sierra in 1992 and raced it at the AGP (Adelaide) support races that year finishing almost 10th before being spun off from a tap from behind. He continued to race it successfully often in the first 3 outright placings for some years in original specification under the Sports Sedan and Thundersports umbrella until other cars took precedence and it was "parked" for a while (see Sierra web page attached).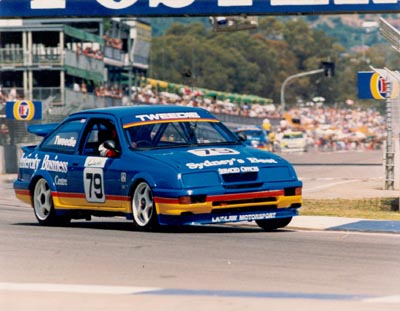 Rob in Sierra RS500 at AGP 1992
1995 ... TOCA SUPERTOURERS ... a bad year for "our hero". Thinking it would be smart to buy another Sierra (as parts from both cars would be shared) from Steve Ellery that had already been de-tuned from Turbo specifications to naturally aspirated by Glenn Seton which the regulations required, Rob embarked on a late life attempt at running with the "big guys" such as Greg Murphy, Jim Richards, Peter Brock (for a year), Ingall, McConville, Brad Jones, Steve Richards, Geoff Brabham, Paul Morris etc with only 260 bhp against their factory backed 290-300hp cars and 200kg too heavy as it was built for turbo regulations. Big character building this year ... Rob was always three quarters or worse back in the field dicing usually with his good mate Justin Matthew's in a similarly slow E30 old BMW ... they had fun but there were no good results but things got better ....
Rob sold the Sierra at the conclusion of the season and arranged via TOCA a "rent-a-drive" for 1996 in an old but good New Zealand owned (Miles Pope) BMW E36 still with 6 speed H pattern gearshift (not a sequential as the later cars had), a little heavy as it was set up for endurance races but very reliable and capable of a few top10 places or better.
All the mechanical preparation and actual race meeting management of the car was done by John McLean's workshop in Brisbane as he was running his son Cameron also in a similar but lighter and slightly faster BMW E36. Rob who at this stage over 18 months was in the process of selling his business didn't have a lot of spare time ... turning up on Thursday's at race meetings with helmet under his arm had it's advantages.
Rob missed a couple of rounds but basically the car was all that could be expected highlighted by a 6th outright at Bathurst in the BMW ... the SuperTourers had been invited to run 3 x sprint races as major support for the 5 litre Holden/Ford brigade (now called SuperCars) and the aggregate of the three races placed Rob 6th and ahead of some fancied runners.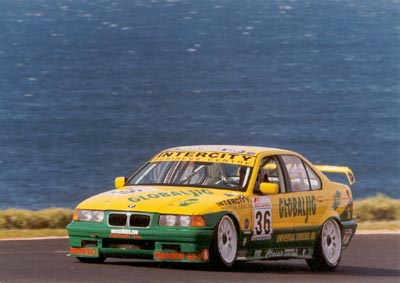 Rob at Phillip Island in the NZ owned BMW
COMPILERS NOTE; Now it must be realized although brimming with continued enthusiasm "young Rob" is not really getting any younger (or lighter) any more as he is now into his 50's but has well and truly given up smoking ... at the expense of eating. Not a great looking specimen when he stepped out of a SuperTourer after a 40 minute flat out race but read on ...
1997-98 ... THE VAUXHALL CAVALIER era for 2 litre SuperTourers was good to our aged star ... he bought the two 1995 BTCC Vauxhall Cavaliers (one which won the championship driven by John Clelland) and the other which had been re-bodied after a big crash. Both cars were now in Australia the former having been campagned in 1996 by Jimmy Richards and Russell Ingall amongst others who had raced the other car. Rob put together a race team in his Hornsby workshop headed by Bruce Partington (ex-Dick Johnson), Terry Bull and another two "gophers" plus John Masala who looked after the engines and transmissions.
I think Rob ended up around 10th or 11th in the series but his year was not without a couple of notable occasions which predominantly included a Queenslander ex-pat Pom called David Auger who had Steve Richard's old Alfa and still was "a little green" ... anyway David and he connected at Phillip Island and destroyed the Alfa body in a major roll-over and Rob was labled "Big Bad Bob" for his apparent efforts. The judicial system with TOCA was to say the least a little vague and really it was great publicity for the category and the incident had been replayed on TV many times so Rob was reprimanded, docked his points for the round and told to behave ... all this with little or no defense permitted!
Later in the year after some good races and skirmishes with old team mate Cameron McLean who was now also in a later version Vauxhall, Rob and company went to Amaroo for the last round of the series. Lap one/race two Rob was punted off by Tony Newman (Peugeot) and after some 110% effort caught the field and passed our friend Auger in the re-bodied Alfa ... Auger then drove into Rob's wheel, ripped off a valve on his Alfa and hit the wall! The next lap he stood in the middle of the race track and whist the cars passed slowly under double yellow flags, kicked Rob's back door in ... all this on TV again.
TOCA called Rob up again after the race ... tried to put the blame on him and let Auger off completely. Rob was eventually exonerated after witnesses were produced ... amazing and it had all been televised ... c'est la vie!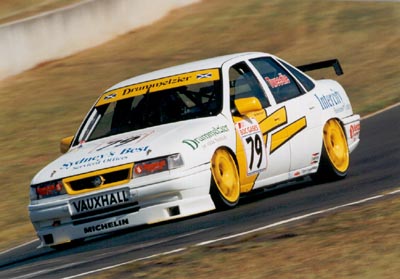 Rob Tweedie powers his Vauxhall around the Lakeside Circuit during Round One of the BOC Gasses Australian Super Touring Championship
1998 ... a good year for "Big Bad Bob" ... yes he behaved himself , always finished high in the top ten with a couple of outstanding races especially in his hometown Adelaide at Mallala where he came 6th outright in good company ... Rob finished 7th outright in the 1998 series against five factory cars behind Peter Hills in well driven ex BTCC privateer Ford Mondeo ... a good year, Auger and Rob became friends (so they say) and both Vauxhall's were sold back to England.
1998 - 2001... Rob and John Masala rebuilt a very famous little historic 1962 Lotus 23B details of which are also shown on this website ... Rob raced it periodically, had a couple of great wins and sold it to the USA in 2001.
The now very famous Falcon Sprint was also sold around 1997 so what was Rob going to race ... remember he was down but not out and there was still life in the old fart! He did a couple of invitation runs in the Sierra turbo at Eastern Creek Historic Races, bought a 1965 Lola T60 F2 car (also on this site) and decided young Tom Tweedie now a teenager who was running a dirt bike in motocross would like to move up to 4 wheels. Rob sent him to Peter Finlay's Advanced Race Driver School for 3 days in an Elwyn 002 which Rob bought from the Berriman's (also see this site). Tom passed with flying colours but CAMS in their wisdom would not issue his provisional licence until his 16th birthday ... Tom was only 14 years 11 months old.
Father Tweedie decided he would have a crack at Historic Formula Ford racing as this category had created many of today's star drivers besides apart from a little extra belly and age, Rob was ready for the job. Two years later Rob has finished in the "top 3" many times and was always a threat no matter where he raced ... I guess his experience might have a bit to do with it. In 2004 he also briefly owned a unique 356 Porsche (also see website attached) which he raced very successfully 4 times until it was sold to make way for the Elfin MS7.
Now Tom is racing successfully in the blue Elwyn and Dad missed it so much he bought a similar Formula Ford for himself ... also see this website for further information.
THE LAST CHAPTER (so far) ... 2005 Rob went to England after any visits in the last few years to primarily drive a "rental" Formula Ford at 2 x race meetings namely 3 day Oulton Park Gold Cup meeting and Thruxton one day meeting 2 weeks later. The 1972 Lola T200 was a good car except it was far too small for Rob who struggled at both meetings to even change gears properly. Lack of track knowledge together with a field of very aggressive Pom's who were racing for sheep stations (castles) didn't help and Rob returned with some pretty average results notwithstanding he seemed quite happy about the whole experience ... quote "I will never race bloody small car again ... unless it is mine and I set it up".
NEVER TO OLD TO ENJOY A GOOD CAR ... 1974 Elfin MS7 Can Am style 5 litre V8 sports car purchased in May 2005. All details about this car can also be found on this website but Rob's latest comments are " ... it is a dream come true, not to small so I don't fit, enough horses in there to take me to the moon and goes around corners ... I love it and it is nice to drive a car with the throttle pedal again!"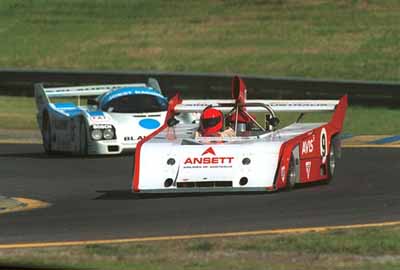 Sandown Park 2005 ... and ex Le Mans 1987 Porsche 962 behind
Hopefully I will not have to write Rob's epitaph but do say in passing it is December 2005 and both Tweedie's are having a great time racing their cars so stay tuned to this station for more updates in the future ....
Cheers
Jonathan Auld
PS Following photo's of cars he raced ...
| | |
| --- | --- |
| Raced 1997-2001, 1962 Lotus 23B | Raced mid 1990s - Jaguar D type special |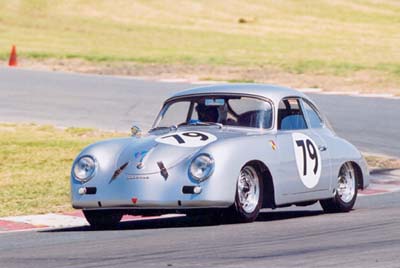 2004 Porsche 356
| | |
| --- | --- |
| Rob in his "new" 1983 Elwyn 004 and Don Holland's Reynard scrapped like this all weekend - Wakefield Park April 2005 | Sandown Park 2003 - Rob Tweedie in close company |