MEMORABILIA – GARAGE SALE
(Updated September 2016)
I have tripped over most of these items in many cases for many years to no avail and cannot see any sensible reason not to turn them into CASH for Tom's racing future see www.tomtweedie.com so as result I have documented these parts and I am offering them at suggested prices … not to insult anyone and I won't become a millionaire as result but hope you can do more with them than I can at present?
REALISTIC and SENSIBLE PRICES … we need to keep Tom racing!
CHEV V8 F5000 cyl block
with race spec cyl heads, rocker covers plus much more etc as successfully used by Aaron Lewis (injection not included)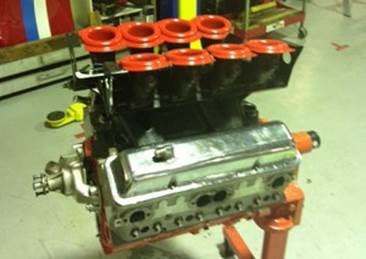 F5000 race engine
HOLDEN V8 F5000 cyl block including the following:
Pistons to suit
2 x crankshafts
Modified cyl heads with pushrods, valves, roller rockeds etc
Cam and roller followers plus much more …
Discuss (not expensive) …
PAIR of MINI COOPER S WHEELS ... ROH Contessa 10" x 5" alloy wheels in very good condition (see below) ... $350 the pair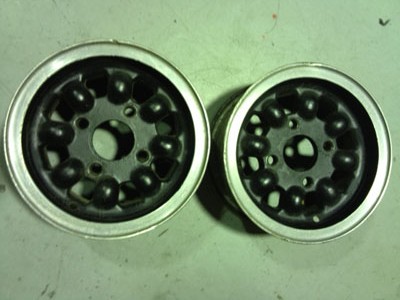 Alloy Mini wheels
MORRIS COOPER S front grille and Mini 850 (both used) but fine … $100 each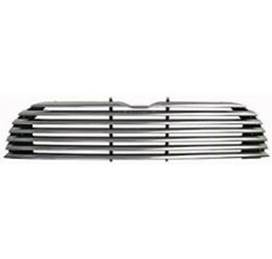 Morris Cooper S front grille
Circa 1965 - 66 FORD MUSTANG RACE/ROAD PARTS
Pair 289/302 Windsor black powder coated "high lift" Motorcraft racing rocker covers … $120 pair
Gear linkages & T bar reverse lock gear lever (original) rare as rocking horses … offers
F351 Windsor iron cylinder heads (standard) … $50 each
RADIO AM circa 1965 press button original ... $100
Full set of 16 V8 ROCKER COVER extended T piece chrome studs ... very American and would enhance any engine bay ... $100 the lot
Steel competition flywheel with ring gear … $175
1966 Mustang instrument binical/speedo etc … $50
Enlarged bigger capacity RACE sump fully baffled with windage tray … necessary on all race cars … $350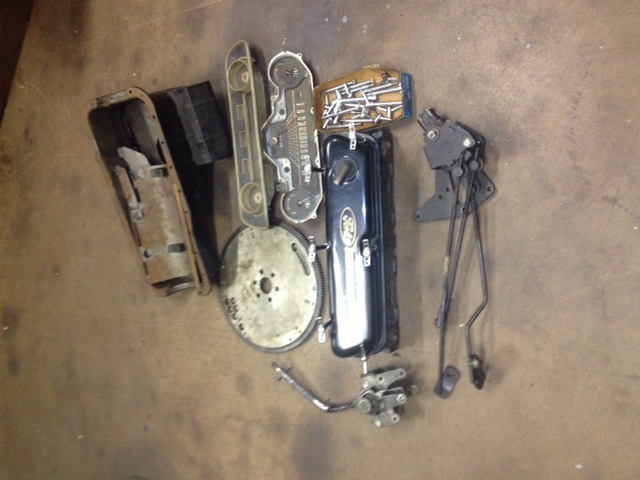 Mustang parts
BRAND NEW GETRAG set of 5 HELICAL (DOG) race gear ratios - with 4 x dog rings … suit Turbo 5 speed Group A race car (Sierra/Commodore/Nissan) or similar:
22:24
24:22
15:31
24:24
20:28
4 x dog rings near new
Make me a sensible offer.
TILTON INTERNAL CLUTCH SLAVE CYLINDER - Hydraulic release bearing part no 61-300 ... suit most modern V8 Supercars and some Group A &C touring cars from the 1980's- 1990's plus selected open wheeler race cars fully recon new sleeve/seal/hydraulic lines plus spare new seal .. ABSOLUTE BARGAIN HALF PRICE $500
JAGUAR TOOL KIT (complete) suggest XJS or XJ6 in black plastic box ... rare and collectable especuially especially for fussy early Jag owner ... $100
RACE PIT COUNTER BOOM aluminium frame with steel base to support all pit air equipment hoses etc ... $450
PORSCHE 911S ENGINE PARTS ... make me an sensible offer
Set of 8 x genuine 2.2 litre (1971) factory conrods (photo below) … $600
Oil pump off 2.2/2,4 litre (nearly $1,000 new) … $350 (see below)
Valve springs with lash caps … $100.
Competition air cleaners suit up to 2,4 Porsche 911 .... $200 the pair
2002 Porsche Boxster headlight assemblies as new (orange winker lens) ... $400 pair (cost new $1200)
| | | |
| --- | --- | --- |
| | | |
| Porsche conrods | Porsche oil pump | Porsche air cleaners |
Please email me on ibcholdings@bigpond.com or call 0408 162 762 (Sydney) and packaging/post/freight costs are not are included … cash or all cheques payable to "IBC Holdings P/L" and cheques must be cleared before delivery/collection & GST not applicable.
All parts etc at HORNSBY (Sydney) by appointment.

ROB TWEEDIE 0408 162 762 and no texts please

PS. Photo's are available to genuine buyers.


[ Home ] [ Robert Tweedie collection of cars ] [ Heritage 1850's Hunters Hill House ] [ Queen Victoria Inn ]
© 2002-2018 IBC Holdings Pty Ltd. All rights reserved.