1962 LOTUS 23

Chassis no: 23-S-79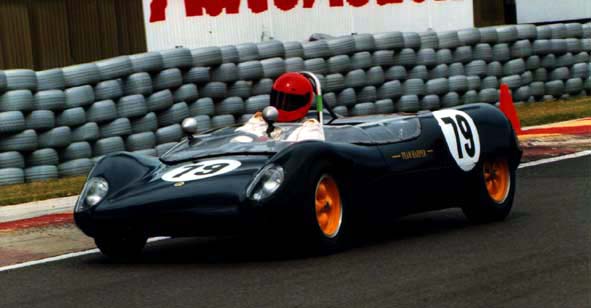 1963
1st
Outright Singapore Grand Prix
1963
1st
Outright Johore Grand Prix
1964
1st
Outright Singapore Grand Prix
1964
1st
Outright Johore Grand Prix
1964
1st
Outright Macau Grand Prix
(Driver Albert Poon)
1999
1st
Sports car Eastern Creek NSW
(Winner Frank Matich Trophy)
1999
1st
Sports car Sandown Park VIC
(4th in quality race car field)
2000
1st
Outright Sebring Cup supports
Adelaide Le Mans final (AGP circuit)

| | |
| --- | --- |
| | 1600cc all steel twin cam Ford 190 bhp. |
| | Hewland Mk 6 5 speed C/R gearbox. |
| | ZF (pawl type) Limited slip differential. |
| | Dry sump lubrication. |
| | Adjustable suspension (factory original). |
| | Spare front/rear body (later specification). |
| | 6 x original magnesium wheels and many part worn used tyres. |
| | Other spares include many alternative gear ratios, new donuts, etc. |
| | 4 sets of different rated springs. |
| | Spare drivers seat for large "pilots". |
| | CAMS certificate of description and FIA papers (worldwide). |
| | Fully enclosed 4 wheel trailer at extra cost - maybe useful for overseas transportation. |
Built in England, purchased by Team Harper in Hong Kong and very successfully driven by Albert Poon. Subsequently sold to Hardy Burmeister who relocated it to Japan. Was then located by Syd Fisher in 1977 and brought to Australia. Raced successfully by Ken Sparkes 1984 - 1986 in Sydney. Sold to Maurice Nowytager, Matt Carroll and eventually purchased in 1994, by Robert Tweedie, well known "Super Tourer" driver who totally restored it over a 3 year period from the bare chassis to exact and correct specification.

Cars I have previously owned: (click)

Sold to Robert Wertley of New York State, USA in December 2001
[ Home ] [ Robert Tweedie collection of cars ] [ Heritage 1850's Hunters Hill House ] [ Queen Victoria Inn ]
© 2002-2018 IBC Holdings Pty Ltd. All rights reserved.